1 December 2022
On the football field, there is no rich or poor, no Hindu or Muslim, no girl or boy. Football gives these children their first chance to stand as equals in society, and even shine on the big stage. My angels have beaten teams from big clubs like Bengaluru FC, FC Goa and Delhi Dynamos. It isn't simply about competing, but also about winning, which vindicates our work and adds belief.
– Sylvester
This week
Goodness points earn a picnic!
At MAA, we follow a system called "Bonanza Points". These points are earned by angels from senior angel volunteers, coaches, and Sylvester bhaiya by spreading goodness. Sharing food, cleanliness, helpfulness, listening to seniors, and being humble are some of the ways Bonanza Points are earned. This week, they cashed in their Bonanza points for a picnic!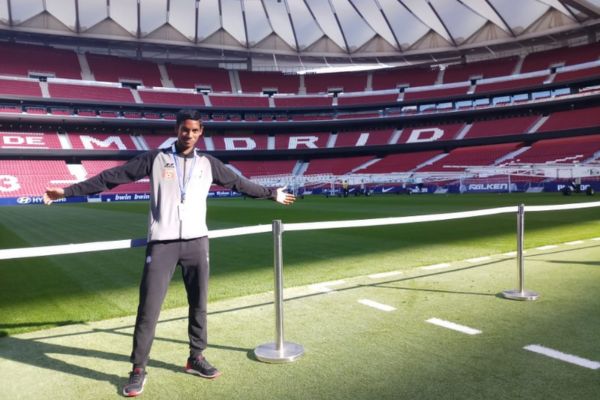 Angels Update
Spotlight: inspirational Anand
From Vikaspuri ghetto to Madrid's stadium. Anand struggled a lot in his childhood after his family lost their home in the Bihar floods. They had moved to the slums of Vikaspuri, New Delhi in search of better livelihood. Anand's mother works as a maid while his father works as a carpenter back in their village. Anand is undeniably talented, but his work ethic is inspiring. He used to wake up at 3:30 am to practice football at a small ground near their slum where he met Sylvester.
The MAA family soon became his support system – after-school teaching, yoga, meditation, and national and international exposure through footballing tours of Chennai, Goa, Bengaluru, and France. He also actively participated in the stunts and plays during MAA's Annual Day. Sylvester's dedication, love, and compassion gave immense confidence to the once-shy Anand.
Today he is playing for the prestigious Tata Football Academy and is currently training with Atletico Madrid, Spain. We are so proud!
Arts Studio
This week's Da Vinci
Art helps young children to learn and express ideas. My Angels Academy's forte is not only football (it goes beyond that). Playing Football helps Angels stay focused, which is useful in their artwork.
Spread Joy
Currently My Angels academy supports 300+ underprivileged children with items like sports equipments, books, stationery, nutrition, clothes, jerseys, conveyance, medical and other day to day needs. Every month substantial amount is required to carry out these activities.
Click the below button if you wish to contribute.